Amazing 3D Realism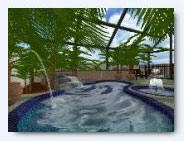 • Create any type of terrain!
• Design in top view or in 3D
• Freely edit in 2D or 3D
• Design and go to 3D instantly
• Realtime walkthroughs
• Day and night visualization
• Day, noon, sunset & evening
• Includes tutorials
• Print to scale
• Unlimited undo
• Layer support
• Lawns, gardens, fountains
• 1000s of plants, trees, objects
• Landscaping, lawns, gardens
• Fencing, gates, decks, addons
• Sprinklers & irrigation
• Extensive outdoor lighting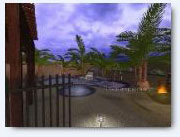 • Sound, motion, wind & wildlife
• Create movies & presentations
• Superimpose backgrounds
• Design over a photo
• Integrated picture editor
• Import digital photos
• Import custom materials
• Import custom models
• Model creation wizard
• Plant growth tool
• Hedge creation tool
• 3D house design (exterior)
• Deck building
• Edging and retaining walls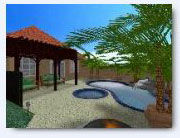 • New 3D Photo-Imaging!
• Flagstone, brick, pavers
• Fireplaces & kivas
• Raised pool wall tool
• Hedge creation tool
• Lawn furniture and accessories
• Create custom plant varieties
• Realistic lighting and shadows
• Realistic fire element
• Realistic water movement
• Pools, spas and ponds
• Custom fence styles
• Slope, hill & terrain sculpting
• Custom boulders and rocks
• ESI Custom Water-Features
• ESI (240) Pool Tile library!
• Create custom Ponds with fish!
• Design from scratch or use our
design Templates to start!
• Create instant watercolor plans • New Acrylic decking colors
• New flagstone pool copings
• New raised tile walls!
• US or Metric defaults
• New VR reality goggle ready
(New Oculus Rift compatible!)
• Easiest & Fun-to-Use
Virtual 3D-TOUR

Combine Virtual 3D Pool Design with Pro Landscaping software and Photo-Imaging
to Get ALL the Features You Want...
Fun & Easy-to-Use 3D Software
Using realtime landscape program (and powerful & easy
to use graphical interface) lets you create truly amazing scenes with any of the 1000's of included items...

Full-Featured Pool & Landscape Design
1000s of photo-realistic landscaping items which can be
set to any growth stage! Instant house builder & decking wizards, irrigation, hardscapes, structures, fountains, waterfalls & much more!

Create High-Quality Movie Presentations
Use the virtual camera at any angle and path and create amazingly gorgeous full-screen deal-grabbing movies!

Animation, Sound, Wind & Wildlife!
Instantly adds motion & sound to pools, spas, water-features, also set the wind and wildlife levels!

Pool TemplatesTM shapes...

We have our most popular shapes already designed including the depths, steps &
benches - all ready to place and edit!

Manufacturer's Tile Libraries...

Now Includes huge (240) MFR Pool Tile
Library from major manufacturer's like
National Pool Tile, Master Pool Tile,
Noble Tile and more.

Custom Rockfalls & Waterfeatures...

New Custom Rock & Sheer Waterfalls and
more, just pick them from the rockyard
along with accent boulders!



Create any Environment...

Add plants, trees, people & wildlife,
pebble beach entries & realistic
waterfalls and grotto caves & more!
Let your imagination run wild!


Add Terrain Slopes, Mounds or Grading
Sloped yards? Use the area grader or slope tool to create multiple slopes and terrain, mounds, or pits...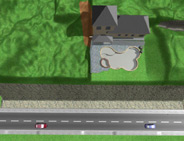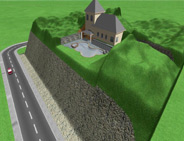 Create any type of terrain with multiple slopes, hills,
mounds, pathways, and more!
Realistic Environments & Lighting
View in Morning, Noon, Afternoon, Sunset, or Night! Realistic shadows will appear for different times of day based on the North arrow.

All lighting turns on automatically at sunset & night!
(large selection of home & landscape & pool / spa lights)

Import 3DS and Google SketchUp
Want to import other objects? Create your own 3D models in the program, or Import free Google Sketchup warehouse models and place and even modify them in the plan!

Includes Sample Drawings & Movies
Includes pool designs & movies (as you see on this website) but in ultra high-quality resolution!

Photo-Imaging in 3D...

Superimpose the backyard or house for pool & landscape before & after photos (& movies) AND, it works in true 3D!
(view any angle, height, perspective!)...
Virtual 3D-TOUR
Create realistic pool & landscaping presentations for RLP2016
Now available for Pro-Suite Users
(requires RLP2016 $99 sold separately)