PRO-SUITETM
Pool Design & Estimating Software for Pool Builders

The Newer, Faster and CAD Accurate Way to Design and Estimate Pool Projects
with our Pool Design and Estimating add-ins for Microsoft Visio...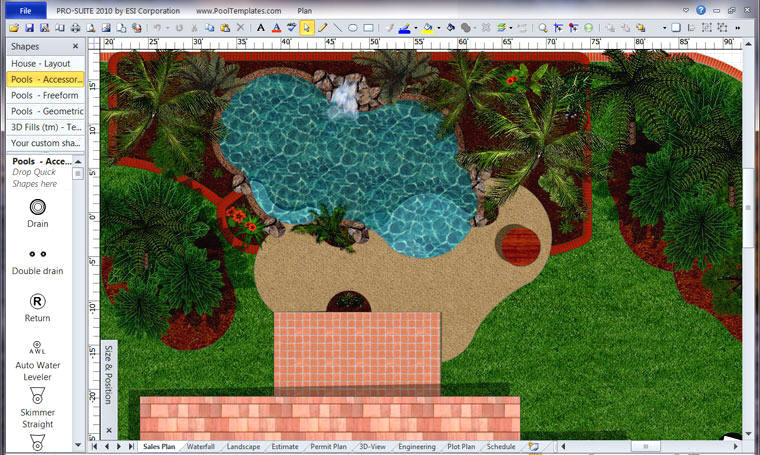 More custom CAD features to create custom accurate 1D pool plans and designs!

'Drag-N-Drop' many new items including new realistic landscape items ...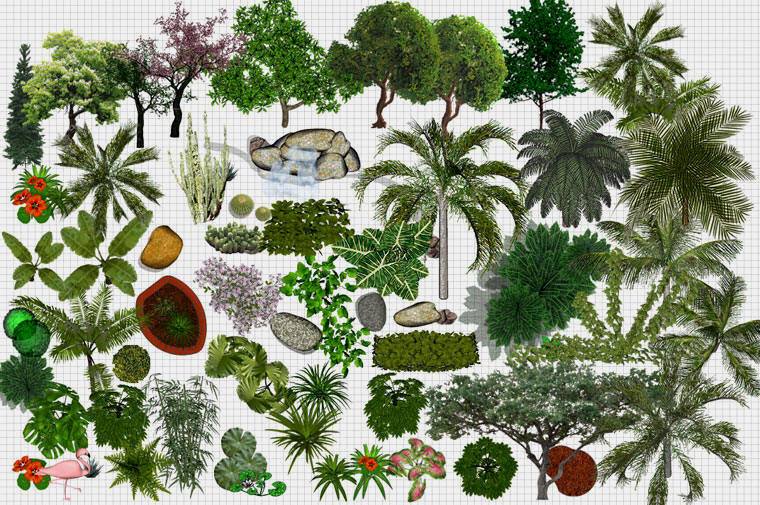 Create builder contractor plans at any scale (built-in layers: electrical, plumbing, layout, etc.)
Instantly calculates pool and deck areas, perimeters, pipe runs and more...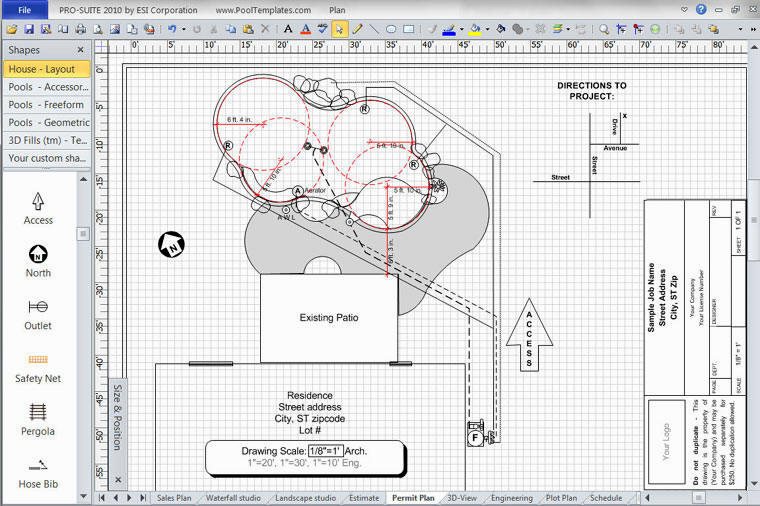 Also import plot plans, surveys (and Google Earth maps) at any scale and convert to/from any scale!

---

Our New ESI Pool Estimator for Excel is included
Creates custom Job Estimates, Proposal and Job Contract: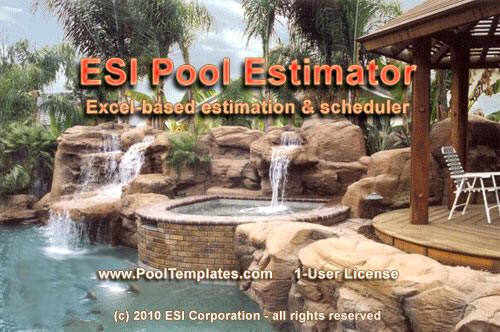 Creates your Estimate / Proposal and instant Contract from just one entry sheet...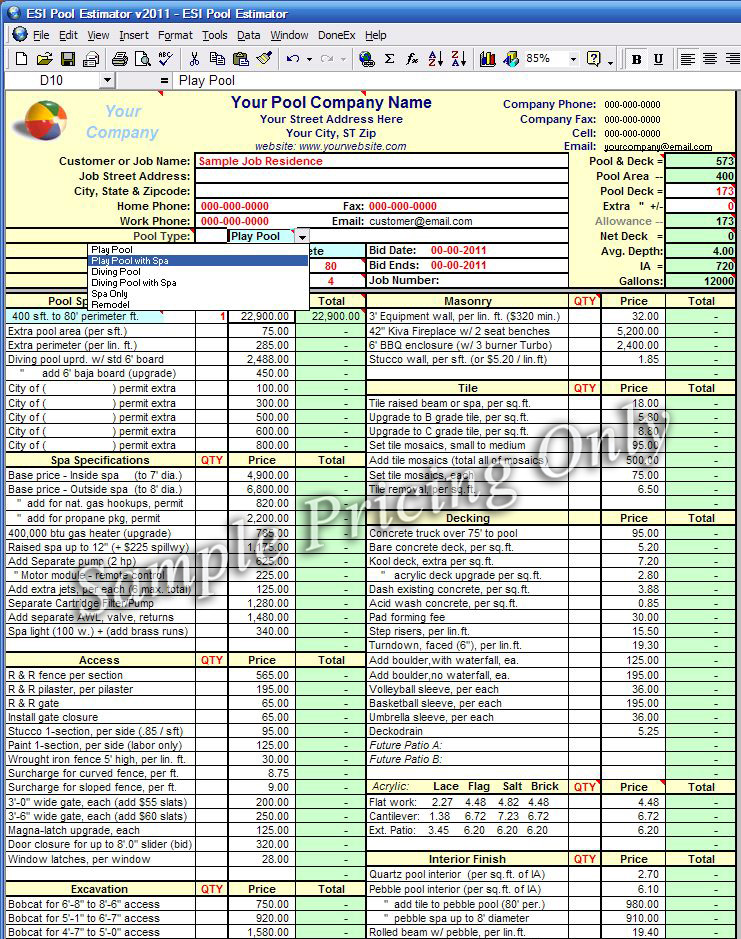 ---

Pool Estimator now includes a Job Schedule tab with Gantt chart to calculate days & track job progress...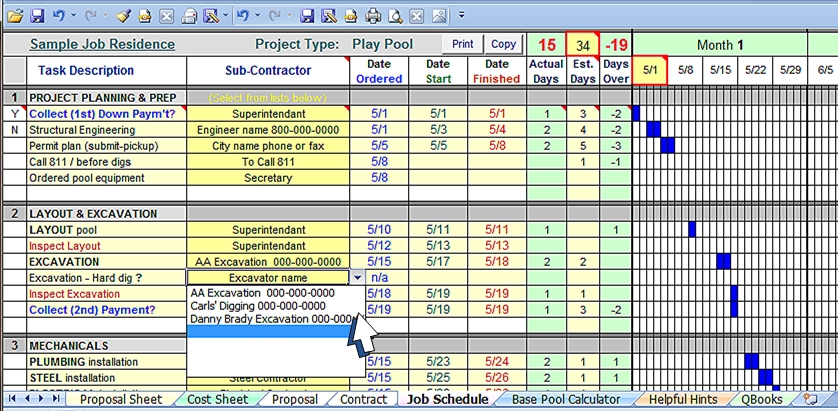 ---
Our New PRO-SUITE 3D (see below) allows for fast and easy full-featured 3D pool, landscape and outdoor living design
with realistic waterfall and fire effects, motion, sound, pool-tile-deck materials, and change time of day...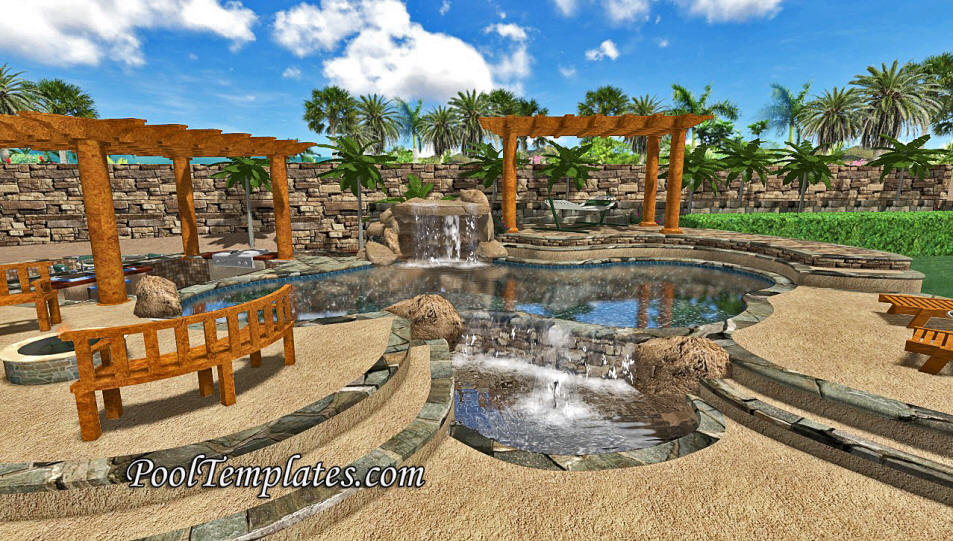 PRO-SUITE 3D pool design add-in for RLP2018 can be purchased separately.
And much more..
<![if !vml]><![endif]>

Design your plan, then create your Estimate & Contract in just minutes
with our included ESI Pool Estimator!


New PRO-SUITE

Design, Sell, Estimate, & Build Pools with our PRO-SUITE on CD!

All the Tools You Need..


Pool Templates TM

Easy-to-use Professional
Pool CAD Design with 100's
of drag-n-drop shapes and powerful design tools!


Pool Estimator TM

Creates fast & accurate estimates, proposals, contract,
and even a Job Scheduler!


Pool Plans

Ready-to-go pool plans that cuts your design time in half!



Video Manual

Easy Tutorial Videos!


Design & Estimate Pools Better with New PRO-SUITE!



TRY OUR NEW PRO SUITE 1D or 3D Pool Design & Estimating Software
add-ins for easy-to-use and affordable Pool Design and Estimating
starting at just $395 (one-time cost, no monthly fee!)
Call us at 1-800-200-4670






PRO-SUITE 1D Requirements: (PC needs are very minimum)

Any Windows-based computer (PC/Desktop/Laptop) 1.2GHz or better
Memory: 4GB Ram (8GB recommended)
Hard drive: 1GB space available
Other: Keyboard, Mouse (w/scroll wheel preferred)

Software Requirements:

Windows: Vista, 7, 8, 10
Microsoft Excel 2007 or higher (for ESI Estimator)
Microsoft Visio (Visio 2010 recommended) any edition

---
Copyright © 2005-2018 PoolTemplates.com ESI Corporation (800-200-4670) For all Windows PCs Contact Us